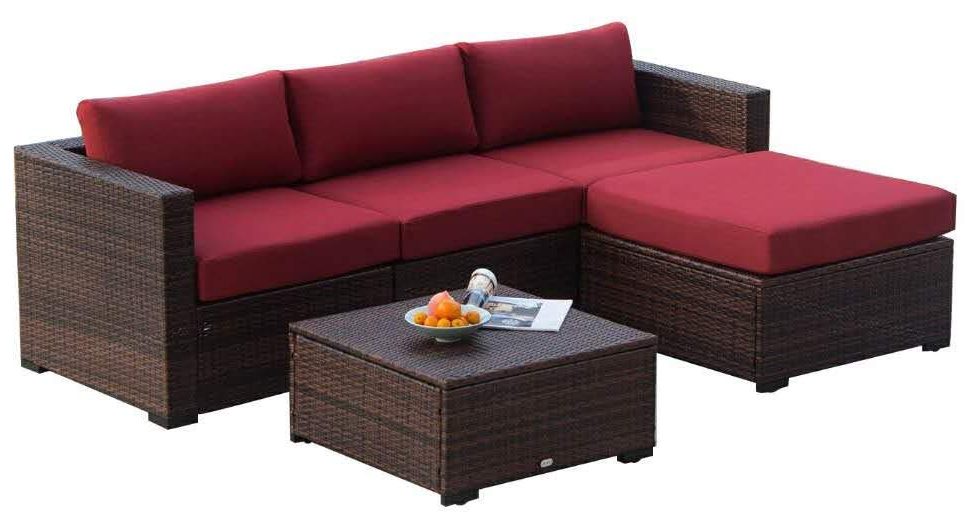 The Auro Outdoor Conversation 5 Piece Sectional Sofa is perfect for relaxing in style with comfort and plenty of room for 3 to 4 people. This outdoor sectional sofa set lets you and your family or friends enjoy refreshments outdoors.
Made of durable steel frame and covered in weatherproof resin wicker. This patio sofa has comfortable cushions and increases the beauty of the wicker by matching any type of outdoor decor. The 5 piece wicker patio set can be easily configured in many different styles to suit your outdoor or indoor needs.
Best for spending time with family or friends, enjoying your morning cup of coffee, reading, or working. Everyone loves having this outdoor sectional set as a part of your patio or deck.
Product Details
Including Waterproof Cover with Seat Clips.

Comfortable, Durable, Sturdy & Tough.

Looks Great, High Quality Material, and Looks High End.

Outdoor Seat Olefin Cushions

Premium outdoor fabric resists moisture with stains and UV harm

Outdoor Sectional Sofa set & beautiful Wicker Top Coffee Table.

Heavy-duty steel frames resist rust, weathering, and corrosion

Rearrangeable into multiple configurations.
Others Information
Hand-crafted

All-Weather Wicker.

U.S. Based Brand.

Durable than traditional wicker.

Standard-Quality checked with approved.

Good Size, Vibrant Color & Weight.

Easy to Use, Easy to Clean & Assembly.

Dimensions: Assembled set – W 85.4 inches x D 59 inches x H 25.2 inches.

Frames, pillows, and cushions are available in more color options.
Why Best For Your Outdoor Space
Smart design with more comfort
This sofa provides great comfort and All Weather Outdoor Wicker 5 Piece Conversation Sectional Set. Easily 3 to 4 people plenty of room. Brown Wicker Outdoor Furniture lets you and your family or friends relax with refreshments in alfresco.
This sofa has Two corner sections, One middle chair, one ottoman, one coffee table with pillows and cushions. The capacity of weight- Chair: 300 lbs, Coffee table: 50 lbs, and ottoman: 250lbs.
All-Weather long-lasting synthetic wicker
All-weather created high-quality synthetic brown wicker to look natural with the variegated look that feels of real wicker. Designed carefully complex weave patterns that added heavy durability with strength.
Also, this outdoor sectional sofa Rich mixed brown colors won't fade, splinter or warp. This sofa looks luxurious and feels like traditional wicker with the standard quality innovative material and is much more resistant to rot than really great.
Premium Water-Resistant Fabric
This outdoor sofa wrapped thick and square-bound soft cushions on the seat and back in addition to extra great comfort. Special design for all weather and matching beautiful coffee table with its smooth.
Also, this Outdoor Furniture sofa set uses a practical wicker top with thick PP board support that really great. Created with standard quality water resistant and fade-resistant olefin fabric with UV-protected.
Besides that, this 17.5 inches seat tall sofa set is resistant to mold, bacteria, odor, and mildew. You can easy to remove cushion covers with a quick zip and easy to spot clean.
Waterproof cover & seat clips included
The whole patio furniture sectional set is wrapped with a waterproof cover that keeps your table and chairs dry and clean.
These outdoor sectional pieces connect with standard quality plastic clips to keep them from sliding apart.
Fast, Easy to assembly and One-year warranty
Perfect fit any type of living space style and setting. Also, this 5 Piece Sectional outdoor patio sofa set and table set can be placed in an endless number of configurations that really great.
One year limited warranty on the weave, frame, and fabric. Easy to the assembly in an estimated 60 to 90 minutes.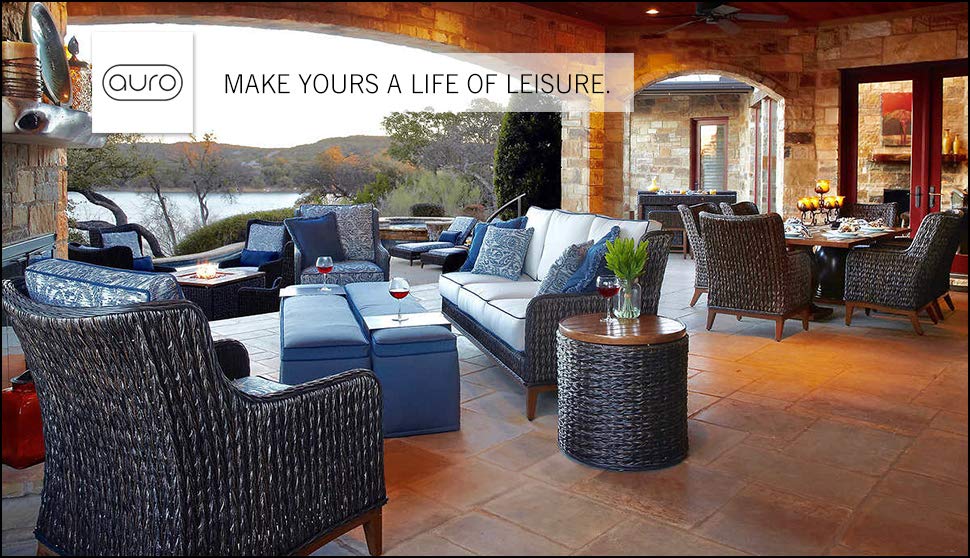 Outdoor, All-Weather Resistance
Created standard quality resin wicker, our outdoor furniture is all-weather resistant and never has to worry about cold climates or rain. Also, these Outdoor Wicker Sofa seat clips or clamps to keep each material from sliding apart while in use that really awesome.
The Auro Outdoor Conversation set uses ultra-plush cushions that never collapse after use and are easy to clean in between uses with water resistance. The cushion covers are machine washable and easy to remove with a quick zip.
Furthermore, the cushions are upholstered and available in more colors for a beautiful look. You are getting brand support with trust because we are based right here in the United States.
This outdoor 5 Piece Sectional sofa looking beautiful and modern design. Best for your outdoor space and perfect match for another furniture. Affordable price and heavy durable. Made of standard quality material quality foam. This sofa has waterproof cover that all weather protect your furniture.
Premium Resin Weave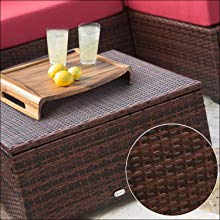 Hand-crafted and premium resin weave that is treated to be more durable than traditional wicker. Standard-Quality, the whole weather resistant synthetic resin is created to last while having a smooth and modern stylish finish.
At any time, repositioning the set is easy with convenient and you can change your set's configuration very easily. Resin Outdoor Furniture and sling products can even be sprayed down with the garden hose for quick, easy cleaning.
You can easily be cleaning the brush off excess dirt with a mild soap and water solution. Never use harsh chemicals.
Comfortable Cushions
Machine washable these cushion covers, ultra-plush cushions are packed safely in water resistant and we want your patio set to last for your outdoor. While dirt accumulates over time you can simply zip off the cushion covers or if you accidentally spill on your cushions give them a quick wash to have them looking brand new.
Also, these 5 Piece Sectional outdoor sectional fabrics are highly water-repellent but if revealed to exceeding amounts of water moisture will absorb along with the stitching which really awesome working.
We are highly recommended that you cover cushions and store them indoors when not in use. Furthermore, if these cushions do get wet when standing on their side and allow the water to drain out of the stitched layer.
Premium Outdoor Olefin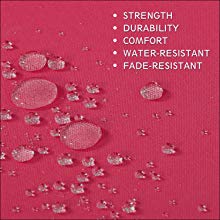 This Home Depot Wicker Furniture known for its resistance to mildew, sun, or stains with colorfastness- covers the cushions and pillows. The whole separate piece will stand on its own and look good doing so.
Also, Olefin is created solution-dyed synthetic fibers, best known for great comfort, heavy durability, and strength. This sofa whether used and best for outdoors, indoors, by the pool and near a sunny window.
The soft cushions are resistant to bacteria, mildew, odor, and mold. Moreover, they are also water with fade-resistant that really awesome.
Cover & Seat Clips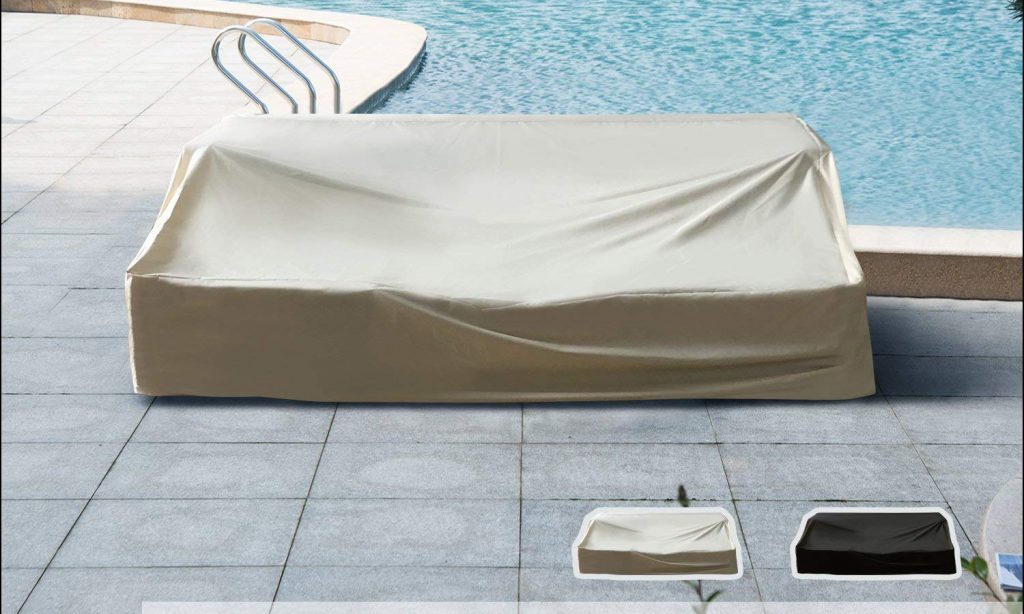 The 5 Piece Sectional has a full sized waterproof cover that is professionally fitted to help protect your precious patio sectional sofa set. This sectional outdoor sofa uses High-Quality cover and seat clips.
Warranty & Services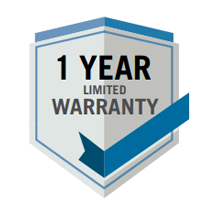 The Resin Wicker Patio Furniture has a 1-year limited warranty that really great for you. Also, provide customer services very quickly. So, the warranty is a great facility for every product.
Available More Three Colors
Customer Feedback About 5 Piece Sectional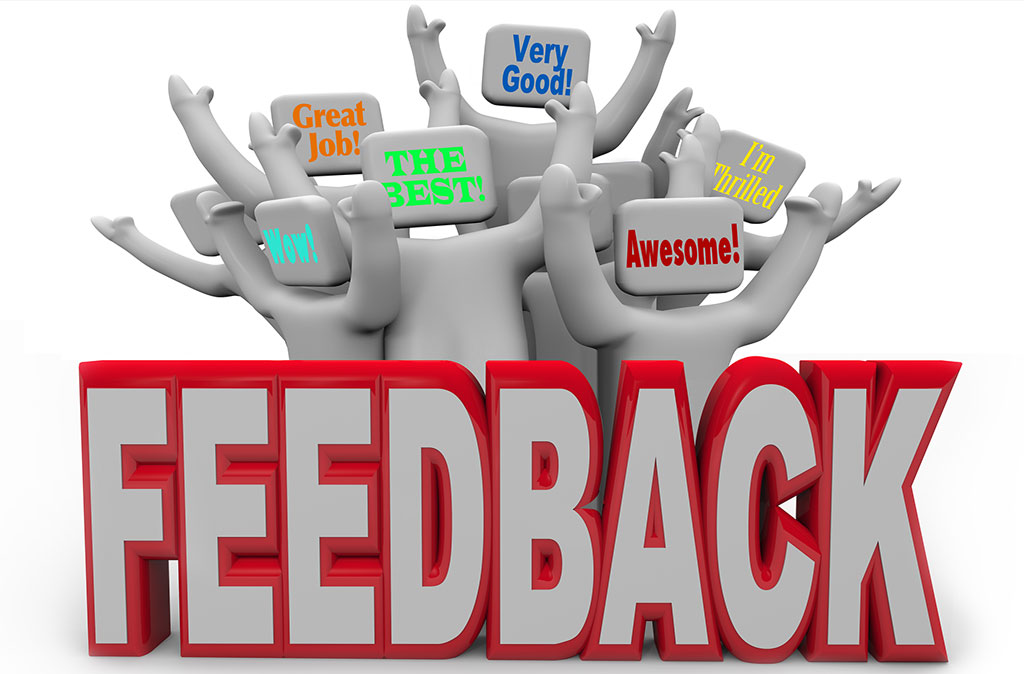 Dr. F
Very nice final product and Lowes Patio Furniture. Instructions were very lacking in detail and several nuts and bolts were in impossible positions to reach with fingers and tools. Installation is basically a 2 man's job so prepare for that.
Customer
I found this is a good deal after comparing three or four different products. We are all very happy that the product is very comfortable and it allows kids and dogs to relax. Quality is very good as well.
Glenda
Easy to assemble. I put it together myself! Nice looking and very durable.
Champlain
Very nice for the price! Thanks for the ratchet tool! Saved lots of time.
General Question & Answer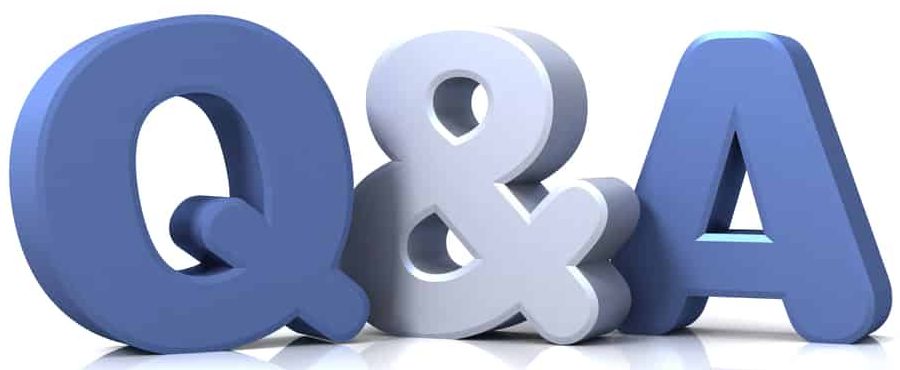 Question: Can you take the cushion covers off and watch them? thx
Answer: Yes, I have only had mine part way off, but it went back on very easily.
Question: How flat is the table, eg would a wine glass stay upright? Or should it have something flat under it?
Answer: It's flat overall. Regular glasses work nicely but I would use a coaster for certainty with a wine glass.
Question: What material is under the seat cushions? Is it the same wicker?
Answer: Yes, it looks just like the table top. Consistent material throughout. Could even use it without the cushions.
Question: What size are the seat cushions?
Answer: The seat cushions are 4 inches thick.
PROS:
Free shipping.

Easy to Clean.

Olefin Cushions.

All-Weather Wicker.

Waterproof Cover with Seat Clips.
Conclusions
Last time we recommend 5 Piece Sectional sofa ideal for outdoor or indoor space. Also, this sofa can be used for your garden, backyard pool, balcony, and outdoor space. Made of standard quality material and covered with a comfortable soft cushion.
Looks beautiful, is affordable in price, easy to clean with assemble. Great comfortable, the beautiful cushions are pretty thick, and the wicker is sturdy and durable.
This sofa is very light and therefore easy to move and the padding is nice and thick so it's very comfortable. The large seating area and waterproof cover protect your whole furniture.
So, you can use this outdoor furniture in all weather. Thanks for reading our whole review.